Phillip DeFranco has a new project. For those who don't know who Philly D is, he's a celeb on YouTube. That's a picture of him with his girlfriend on the right. I know what you are thinking, "How did he get a girlfriend like that?!" I think it's the being funny thing. Works every time. Anyway! I always watch his videos because they make me laugh. Of course, I could find it funny because I'm warped and a little demented. Now you are probably thinking, "Gee, that's great. Get to the point." Well, okay! Geez. Patience is a virtue. ;)
His new project is a weight loss project entitled "Project Lose an Olsen Twin." First of all, I find that really funny because really - an Olsen twin weighs MUCH less than most of us need to lose. I mean, I can lose 2 or even 3 Olsen twins I think.
I went off topic again. POINT IS! He mentioned his weight... and it was close to mine. And he's freakin' 6'0"!!!!! I'm...... ummmm.... not that tall.
Has that ever happened to you guys? Someone mentions their weight, and you think "Oh my god... that's how much I weigh. And he's tall/muscular/professional athlete." CASE IN POINT! I looked up some athletes. Ones that weigh close to me. We have Jeremy Hoornstra, a freakin' power lifter.
Or how about, Adrian Peterson, a running back for the Vikings, who last year wanted to
get up to
230 pounds. (At 6'1".) Not only that but the coach said "Well, you know what, 230 is awful big." Yeah. Thanks. BUT IT GETS WORSE! One of the comments to the story was "230 lbs sounds like Al Roker in cleats." *starts sobbing* Really??? REALLY?!
Don't get me wrong... I don't want to be 100 pounds at 5'4". I want to be healthy and beautiful. When I went to look for examples of celebrities that didn't look anorexic, sadly, I didn't find huge numbers of choices. Although, here are a couple of women whom I completely admire for their intelligence, abilities, and accomplishments. And they just happen to be absolutely beautiful.
Drew Barrymore - This woman has overcome a lot to become the woman she is today. She's enormously talented and driven. She isn't a cookie cutter, anorexic looking actress. She, like the rest of us, has fluctuated in her weight, but if I may say - at any weight, she is lovely.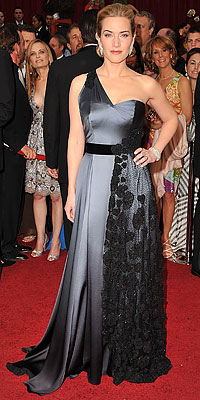 Kate Winslet - I adore Kate Winslet. I think she is a spectacular actress. Again, hugely talented and accomplished. She has been very outspoken about the fact that she is a real woman with real curves. In fact, she has threatened to sue tabloids who have said she is seeing a diet doctor. In a
People article
addressing the situation, she has said,
"I will continue to say what I feel about this issue of women being thin and emaciated. It's just out of control," she said Sunday. "I know I'm a role model to young women. It's a role that I take very, very seriously and I would never want anyone to ever think I was a hypocrite in doing something like going to a diet doctor, for goodness sake. I mean, it's really, really ridiculous."
In 2005, Winslet told PEOPLE for the annual Most Beautiful issue, "I know that I have a real woman's figure. It's nice that it's acknowledge and appreciated that I don't conform. I don't starve myself."
Kate, you are absolutely stunning. I wish I could look a tenth of how beautiful you are. (Yes, I'm speaking as if Kate Winslet is actually reading this. It's my dream world! Don't mess with my dream!)
Hmmmm.... did I just get up on my soap box?? I think I did.
I'm sorry. *steps down*
My point is - - I really don't want to weigh the same as a running back or a weight lifter. I would prefer to be healthy and beautiful. I'll get there. Really. I will. :)